Credence can help clients by streamlining the adoption and management of AWS Cloud.
Credence Cloud Managed Services (CCMS) can help you define a clear, efficient, and cost-effective AWS Cloud strategy that can provide your organization with a stable, scalable platform designed to support evolving mission needs and threats. Let our experienced team of professionals guide your AWS Cloud journey and show you how the right strategies, technology, and resources can help achieve your mission goals.
CCMS follows a holistic, integrated approach that leverages AWS Cloud Infrastructure as a Service (IaaS) and delivers value to our esteemed customers. Our professionals have an in-depth understanding and strong track record of delivering AWS Cloud solutions to our public sector clients. Further, Credence is specifically positioned to design, execute, manage, and optimize a comprehensive strategy that puts AWS Cloud solutions in service of your vision for the future.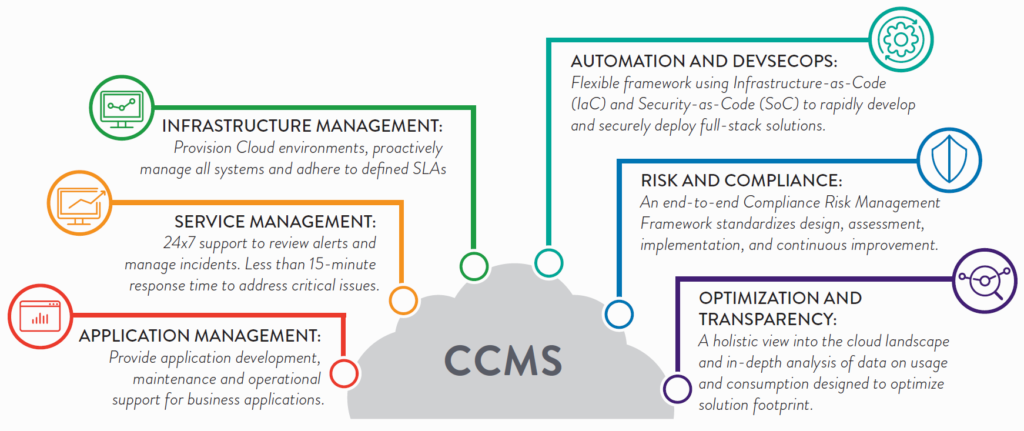 With traditional, non-cloud models, companies manage the entire spectrum of their IT function. Migrating workloads to the cloud helps by enabling public sector organizations to reduce their physical IT infrastructure footprint, but most cloud providers do not offer critical IT management services necessary to operate workloads cost-effectively and securely in the cloud. Credence helps organizations deploy cloud services within their digital transformation journeys to meet their business objectives and drive results. Our experts employ a tailored, risk-mitigated cloud strategy that considers all possible deployment models, with minimal downtime. We provide a seamless, modern, secure, and agile journey from in-house IT to a cloud platform.
Traditional Approach

Credence Approach

✘

Focus on run and operate
✘ Hardware-based solutions
✘ Centralized operations
✘ Device-based SLAs
✘ Complex, manual change management
✘ Static monitoring with fixed thresholds
✘ Security Risk Mitigation


✘ Outsourcing vendor

✓ Design, architect, and automate
✓ Cloud- and software-based solutions
✓ Distributed operations and resources
✓ Solutions/application-based SLAs
✓ DevSecOps, CI/CD self-healing solutions, IaC
✓ Dynamic monitoring, anomaly detection, AI, ML
✓ Security by design, defense in depth, continuous compliance


✓

Trusted advisor and partner
With CCMS, we can help you realize both short- and long-term benefits, such as:
➣ Outcomes targeted to business value and IT strategic objectives
➣ Rapid-cloud deployments configured and managed to your specific needs and goals
➣ Efficient, or restructured, costs with various cost models to enable scalability and agility
➣ Enhanced performance enabled by freeing resources to focus on value-added activities
➣ Enhanced security and compliance capabilities for added peace of mind
➣ Ongoing guidance and support from strategy, to deployment, to continued operation, to continuous improvement
CASE STUDY: Credence helps the Defense Logistics Agency modernize DoD's eCommerce platform – FedMall
Want to learn more?
Please contact us at cloud@credence-llc.com to discuss how we can help you get the most out of AWS.